Disclosure: This shop has been compensated by Collective Bias, Inc. and its advertiser. All opinions are mine alone. #CurbsideConvenience #CollectiveBias
I'm all about saving time these days. And, if something makes my life easier, I'm automatically a fan. As you know, I do most of my grocery shopping at Giant Eagle Market District in Strongsville. I actually don't mind grocery shopping at all but Greylen is getting to the age where it's hit or miss. She's either a perfect angel in the cart or she's pulling things off the shelf, trying to stand-up in the cart and demanding snacks.
I recently discovered Giant Eagle's Curbside Express service and I'm beyond hooked. Basically, you can shop from the comfort of your own couch, bed or desk and choose a pick-up time. Once your personal shopper (a human, not a robot) completes your order, you simply drive up to the designated spot, call the number they give you and they bring the groceries right to your car.
Lazy or genius? I'll let you decide…but you knowww I'm going with the latter.
Obviously it's a major time-saver but I actually find that I spend less money when using Curbside Express because I don't throw a bunch of stuff in my cart that I don't really need. It's super easy to get everything I normally buy, especially things like fresh produce and meat, and it's also great for picking up big, bulky items, like my 3 cases/week of LaCroix (don't judge me!). If you're in the Cleveland area, check out this service at multiple Giant Eagle locations including Strongsville, Solon, Rocky River and more. It's free to try the first 3 times and under $5 every time after! So. worth. it.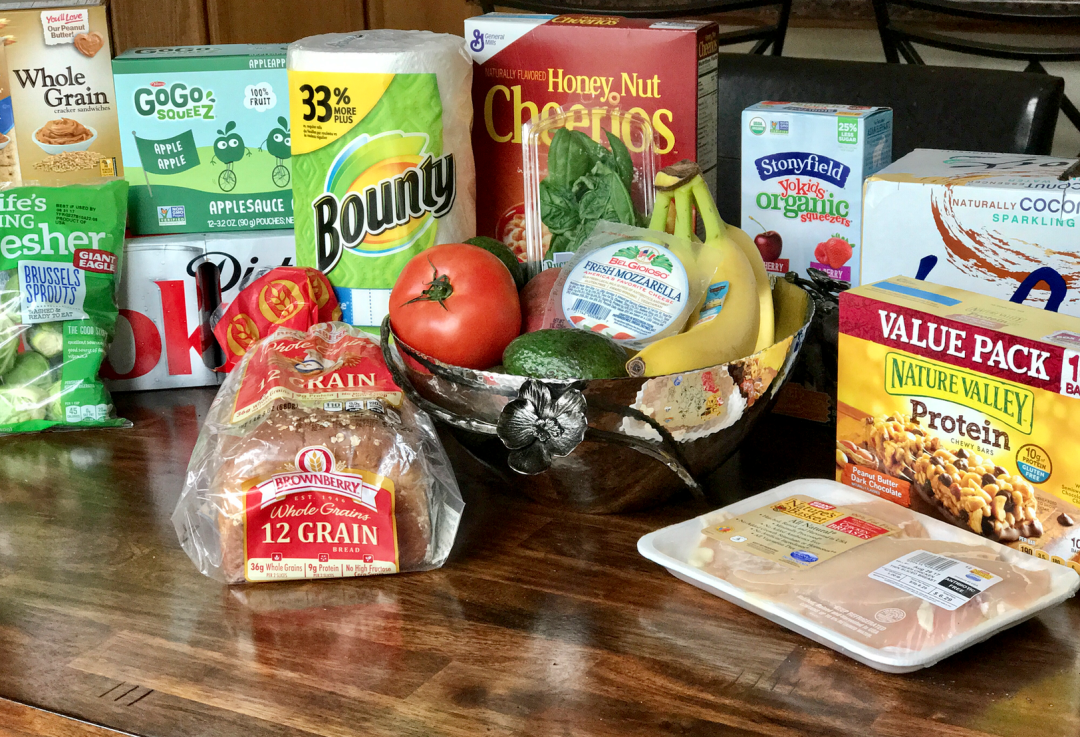 Now, onto one of my favorite weeknight meals, avocado tomato basil chicken. This meal is so easy, takes 20 minutes and requires 1(!) pan. I told you I'm all about easy! You will need:
1 package of chicken (I prefer the Nature's Basket thinly sliced chicken breasts)
1 tsp Italian seasoning
1 tsp onion powder
1 tsp garlic powder
1/2 tsp garlic salt
1/2 tsp pepper
1 ball of fresh mozzarella cheese, sliced
1 avocado, sliced
1 tomato, sliced
fresh basil, chopped
balsamic glaze (I love the Market District branded glaze but you could certainly make your own)
Mix Italian seasoning, garlic power, onion powder and garlic salt and pepper. Coat each side of the chicken with the mixture.
Slice tomato, cheese and avocado, and chop basil into ribbons.
Heat a skillet with a drizzle of olive oil. Cook chicken on one side for 4 minutes, then flip. Cook on the other side for 4 minutes or until just about done.
Top each piece of chicken with alternating slices of tomato and avocado.
Top tomato and avocado with mozzarella slices. Cover skillet with lid to let cheese melt, checking frequently to ensure it doesn't burn. This usually takes about 2 minutes.
Remove from heat. Top with basil ribbons and balsamic glaze.
This pairs well with a ton of different sides. On this particular night, I was craving comfort foods so we had sweet potato spears (drizzle with olive oil and your favorite spices, bake at 400 degrees for 20 minutes) and pasta. Can't go wrong with carbs on carbs, my friends.
Happy shopping and happy cooking! On a side note, do you guys like seeing recipes on here? I have definitely been having a lot of fun with them lately. If you have any to share, please do in the comments section below!